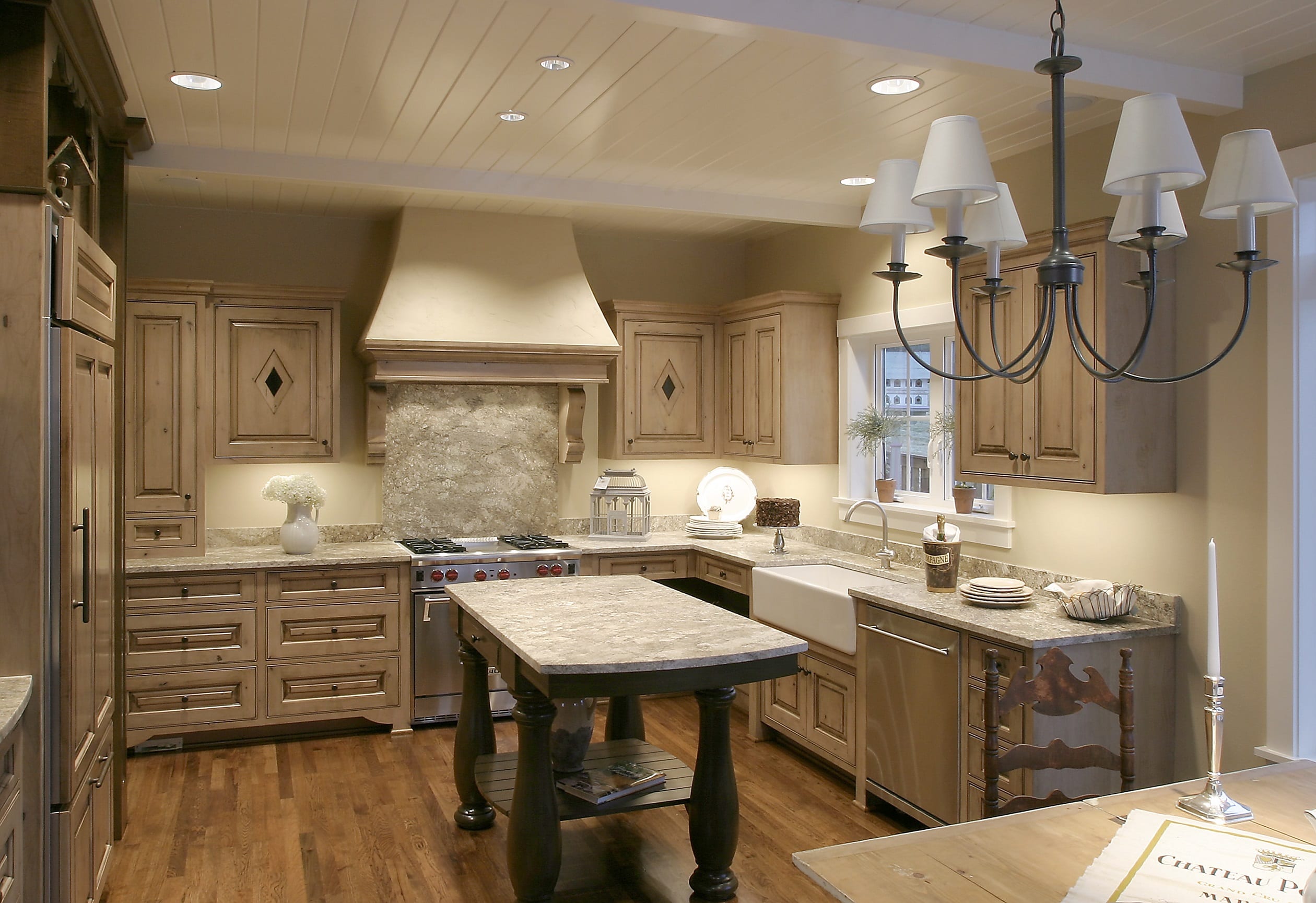 Inspiration
For our one and only foray (thus far) into building on spec and as a participant in the Parade of Homes we wanted to do something that would stand out among the typical subdivision faire.  'The Farmhouse' was inspired by the occasional home you see in subdivisions which were obviously there long before the surrounding homes appeared.  We wanted something that was modern, yet felt timeless.  Mind you, this was 2003.  Based on the popularity of the Farmhouse style in 2016 design trends I'd say we were ahead of our time!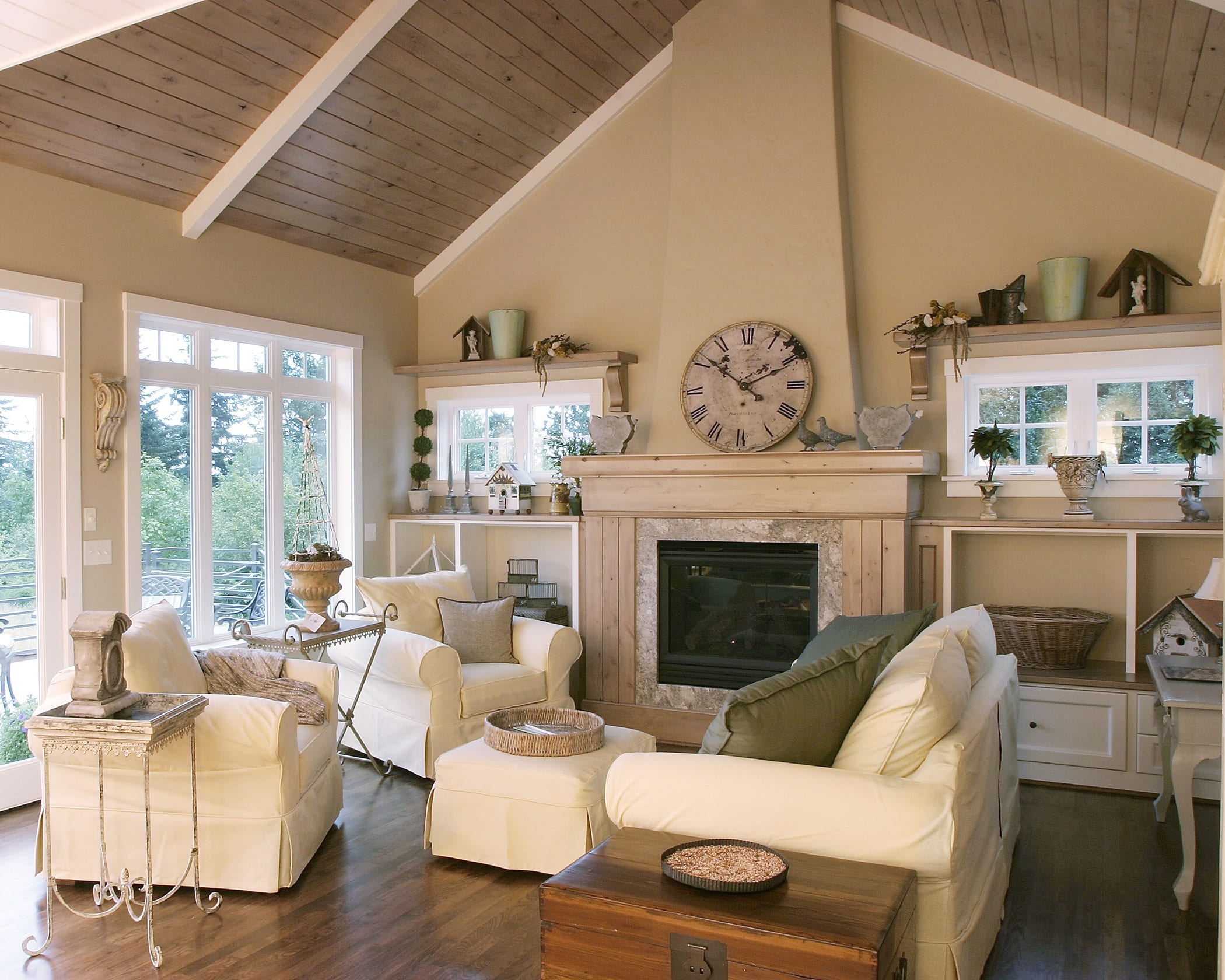 Details
We wanted to create a warm and inviting yet sophisticated space.  By using lots of natural materials such as rustic knotty alder for the cabinets, #2 hickory floors, and crisp white millwork we feel that we struck a great balance between the two.
For continuity we installed matching tongue and groove knotty alder on the vaulted living room ceiling and fireplace.  The range hood enclosure and fireplace chimney have a plaster finish.  The white box beams are carried through the great room, nook and kitchen space.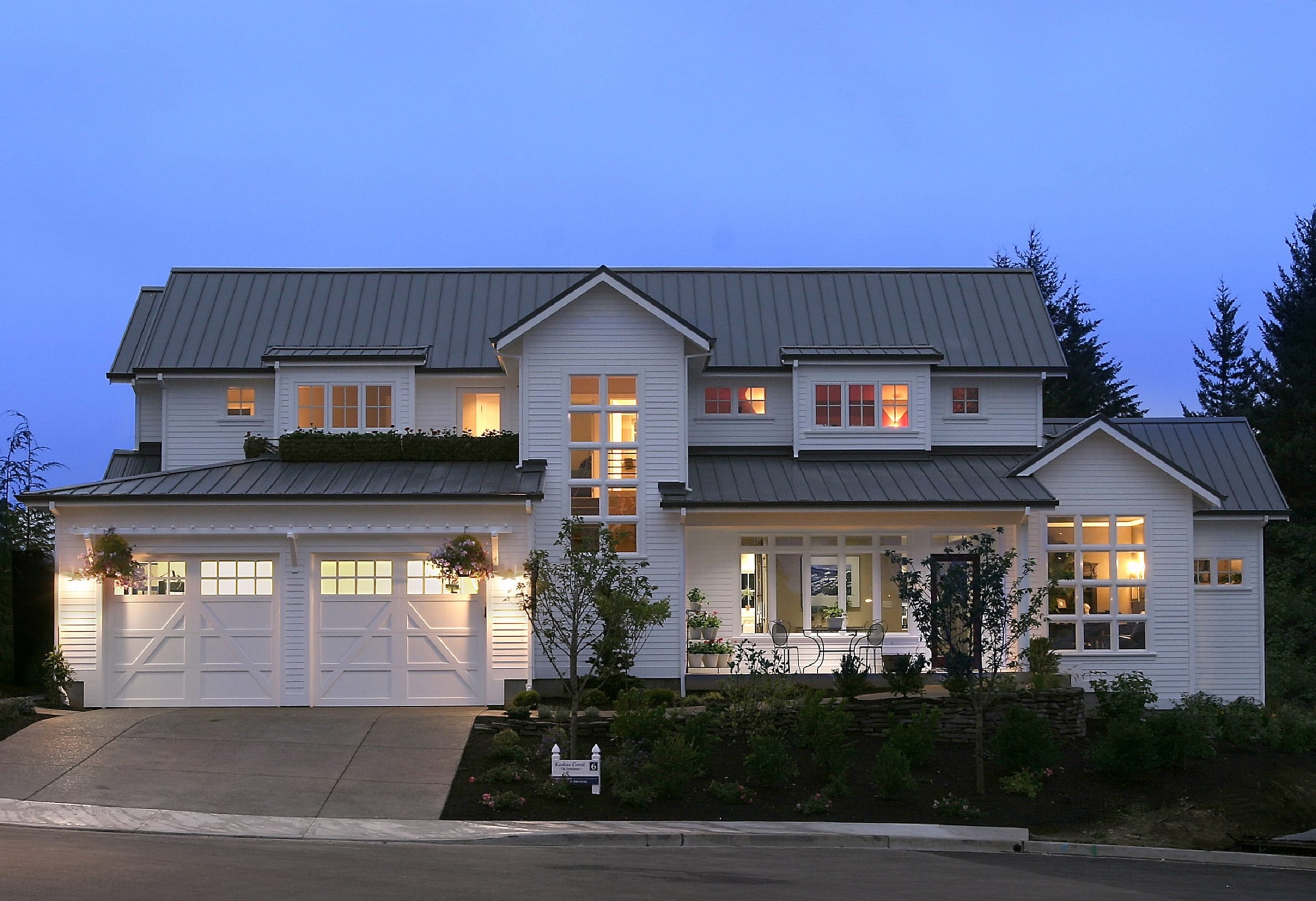 Curb appeal
We spent considerable energy on the exterior details to stay true to the design inspiration.  The small shed roof dormers are perfectly symmetrical to the center stair tower gable.  The Milgard windows were meticulously designed to have visual weight and an authentic farmhouse look.  We were really careful to consider site lines in window placement to maintain privacy while letting in natural light.
We had to get special permission from the HOA for the metal roof.  Luckily, the developer bought into our design vision and agreed that we would lose authenticity if we had to go with a = standard composition shingle roof.
The siding is smooth Hardi-plank with 4″ exposure.  The smaller exposure makes it look more like a classic old farmhouse.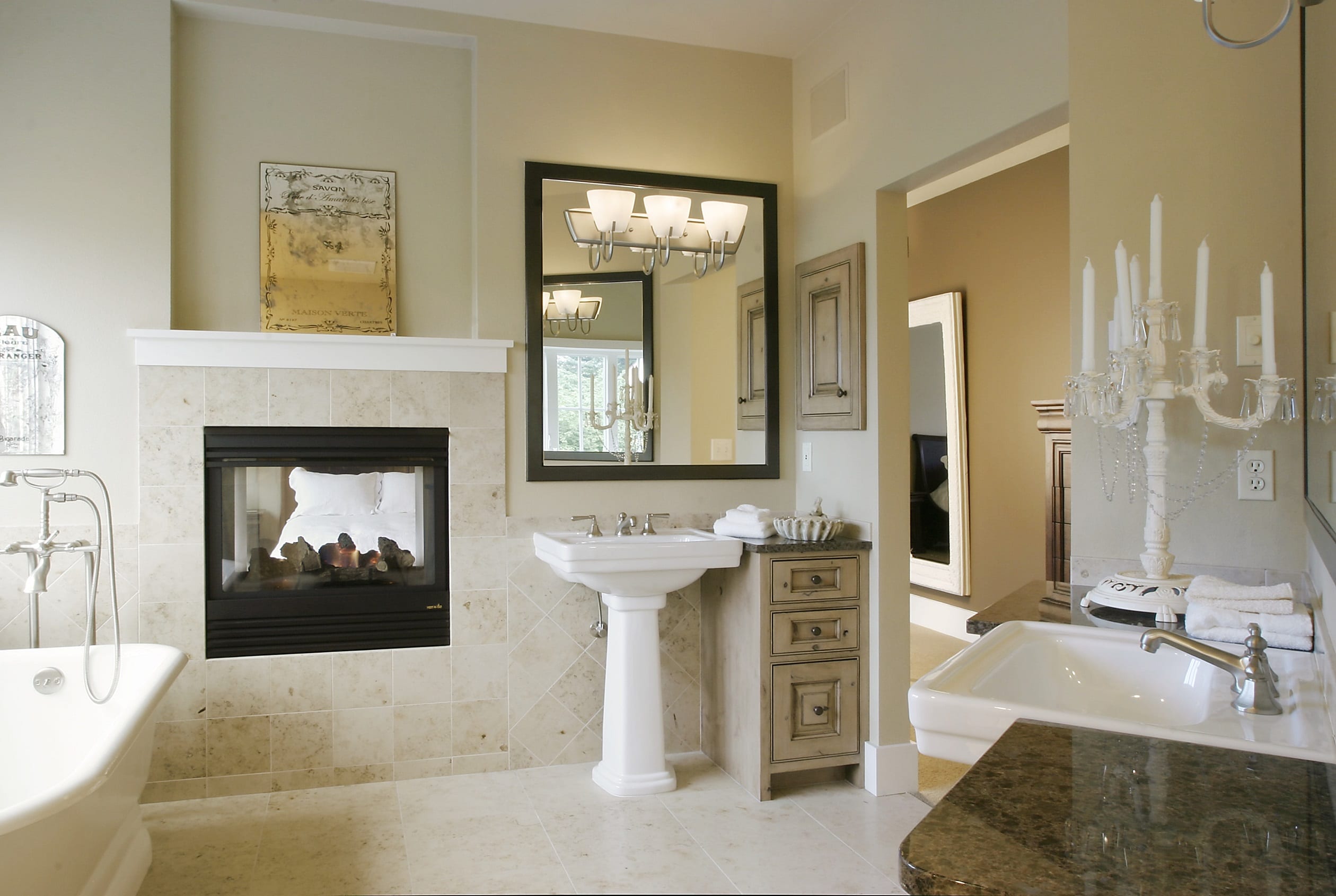 Timeless design
Even though design trends are powerful and will be part of just about any given project, we try to avoid being 'trendy'.  Natural materials like travertine tile or granite counter tops have an intrinsic beauty that's not likely to go out of style.  In the master bath we used both of them as well as modern yet classic looking plumbing fixtures.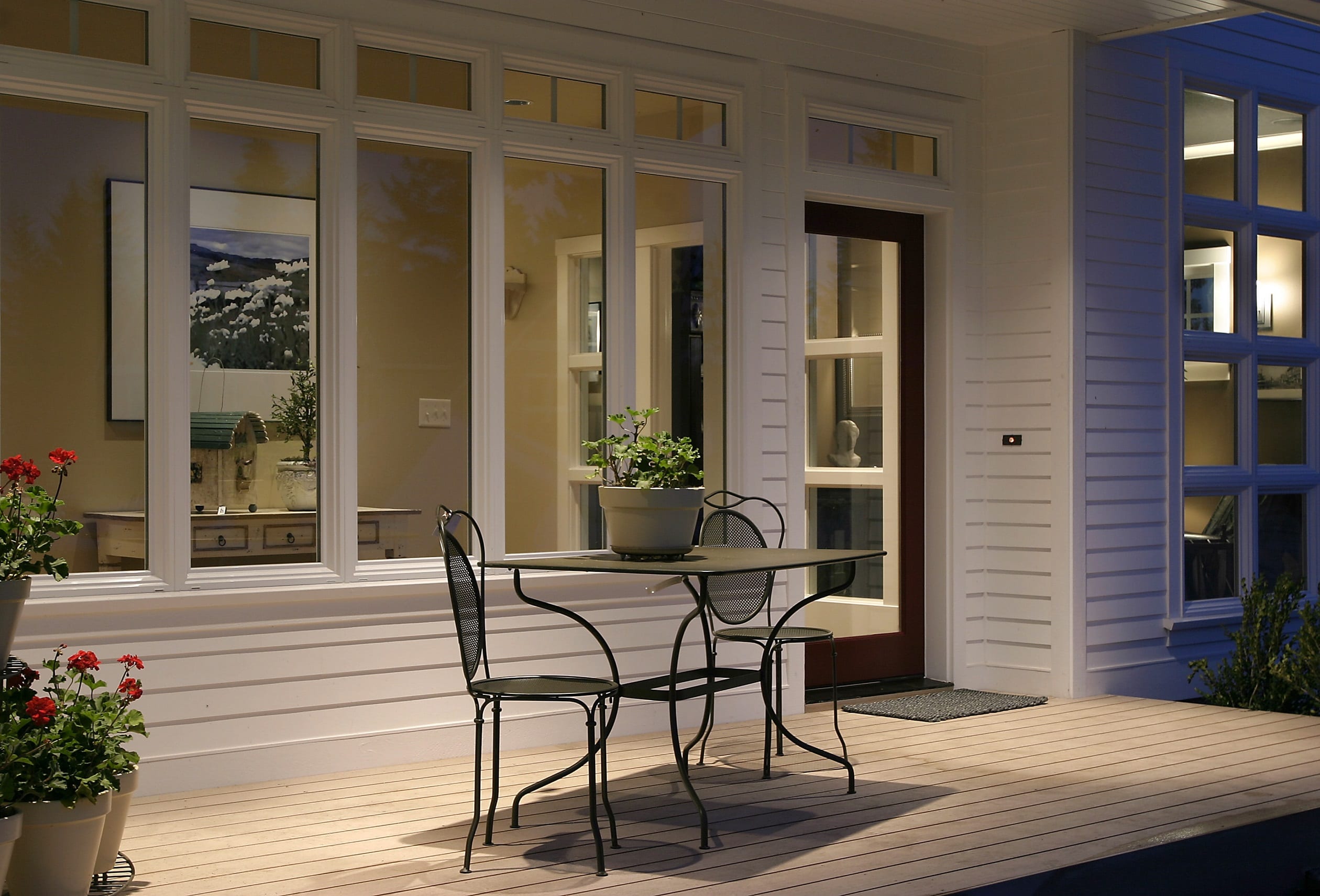 The test of time
Although we designed and built this home in 2003, we still get new projects today from folks who fell in love with the house during the Parade of Homes.  We feel it's a testimony to our original vision to build a classic home.  All these years later we're still mighty proud of what we accomplished with our one and only spec home.