White Farmhouse Style Kitchen Remodel
Inspiration
Mike and Krista built their home around 2005.  It was one of those deals where the builder came with the lot, and they really wanted the lot, so they had to take the builder.  Although the house turned out nicely, there was one thing that really didn't work – the kitchen.  As you can see from the photos, it's a perfectly nice looking kitchen.  Unfortunately, it was too small.  The space around the island was very tight (less than 30″ to the fridge).  It was a bummer they didn't have a builder who was able to head this problem off (much easier to do during construction than after the fact).  So they decided to live with it…until now.
Challenges
To make the kitchen layout really work we needed to expand in two directions.  This was made tricky by a complicated existing roof line and a an inconveniently placed septic tank.  Due to the tank we could only expand 3'6″ toward the back of the house.  With some 3d CAD design work we found a solution for the roof.  The 3'6″ addition coupled with expanding about 6′ to the west turned out to be perfect to gain the space needed to make the kitchen layout spacious and functional.
Here is the 3d rendering and exterior photo after the job was complete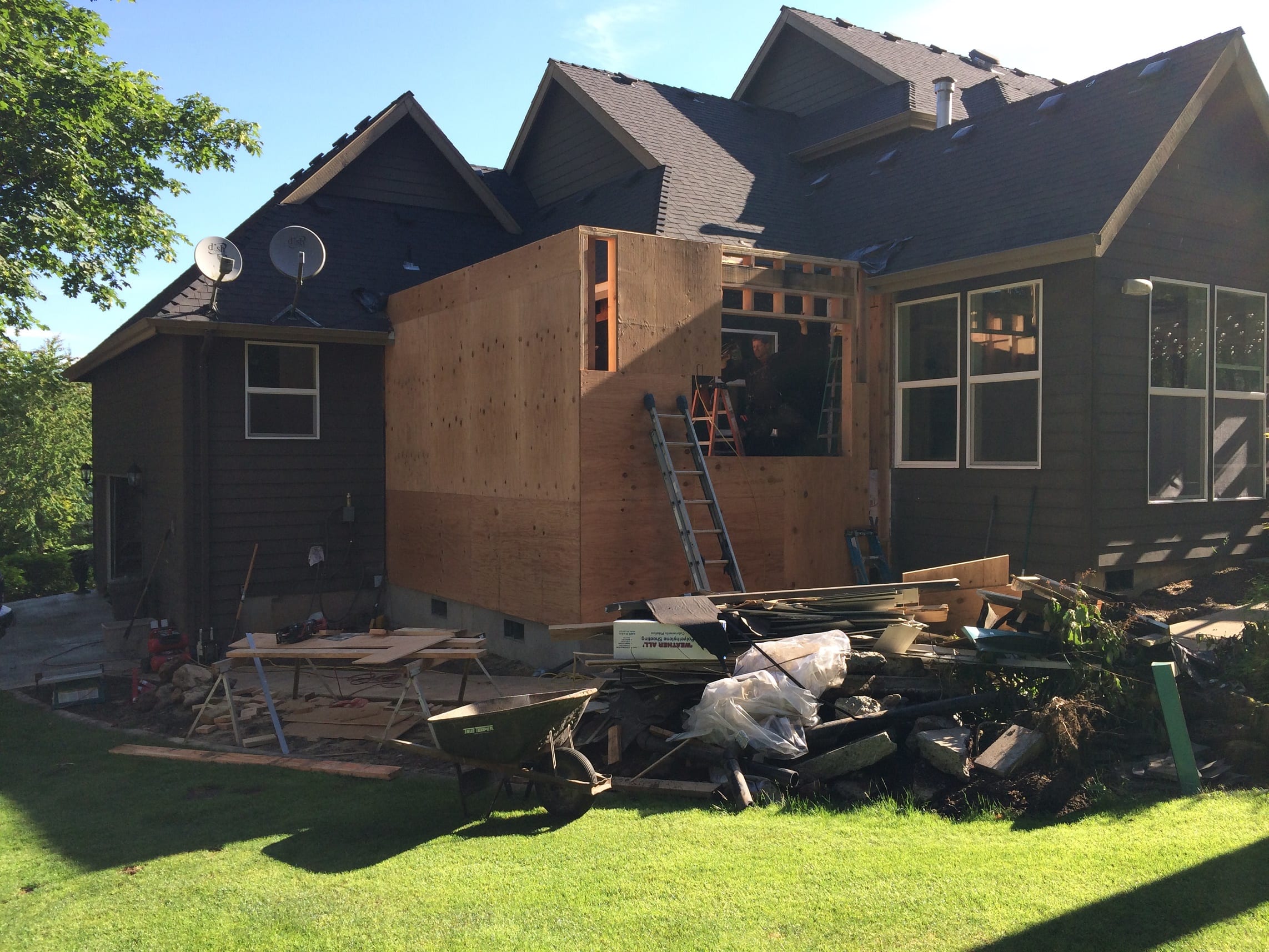 Framing
We were able to do most of the framing work before tearing out the existing walls, leaving the kitchen functional for as long as possible.  Whenever possible, we do our best to keep our clients comfortable.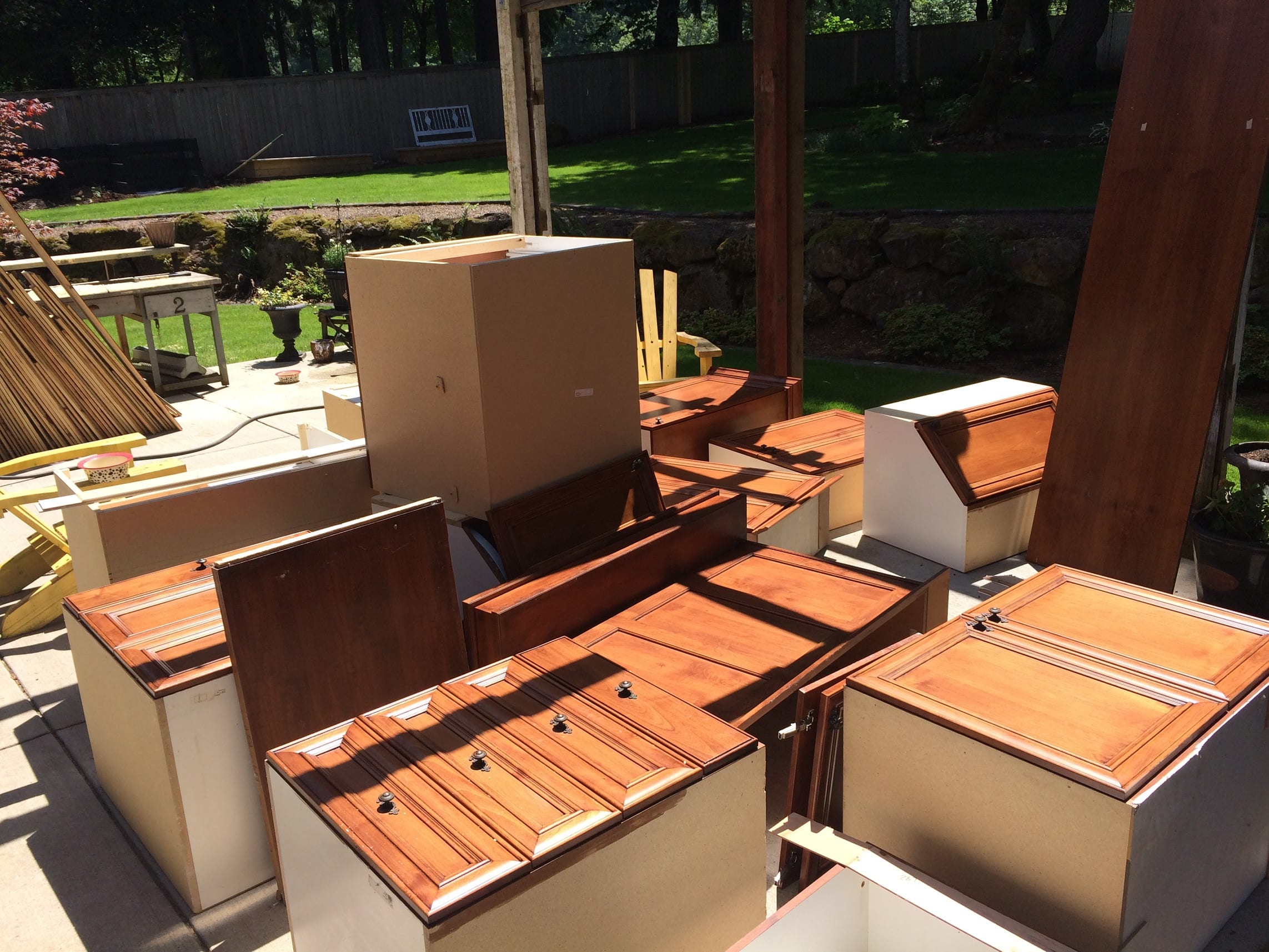 Donating existing cabinets
The existing 10 year old cabinets were carefully removed so they could be donated to Habitat for Humanity.  Not only did they go to a good cause, but our clients received a nice little write off.  Truly a win-win!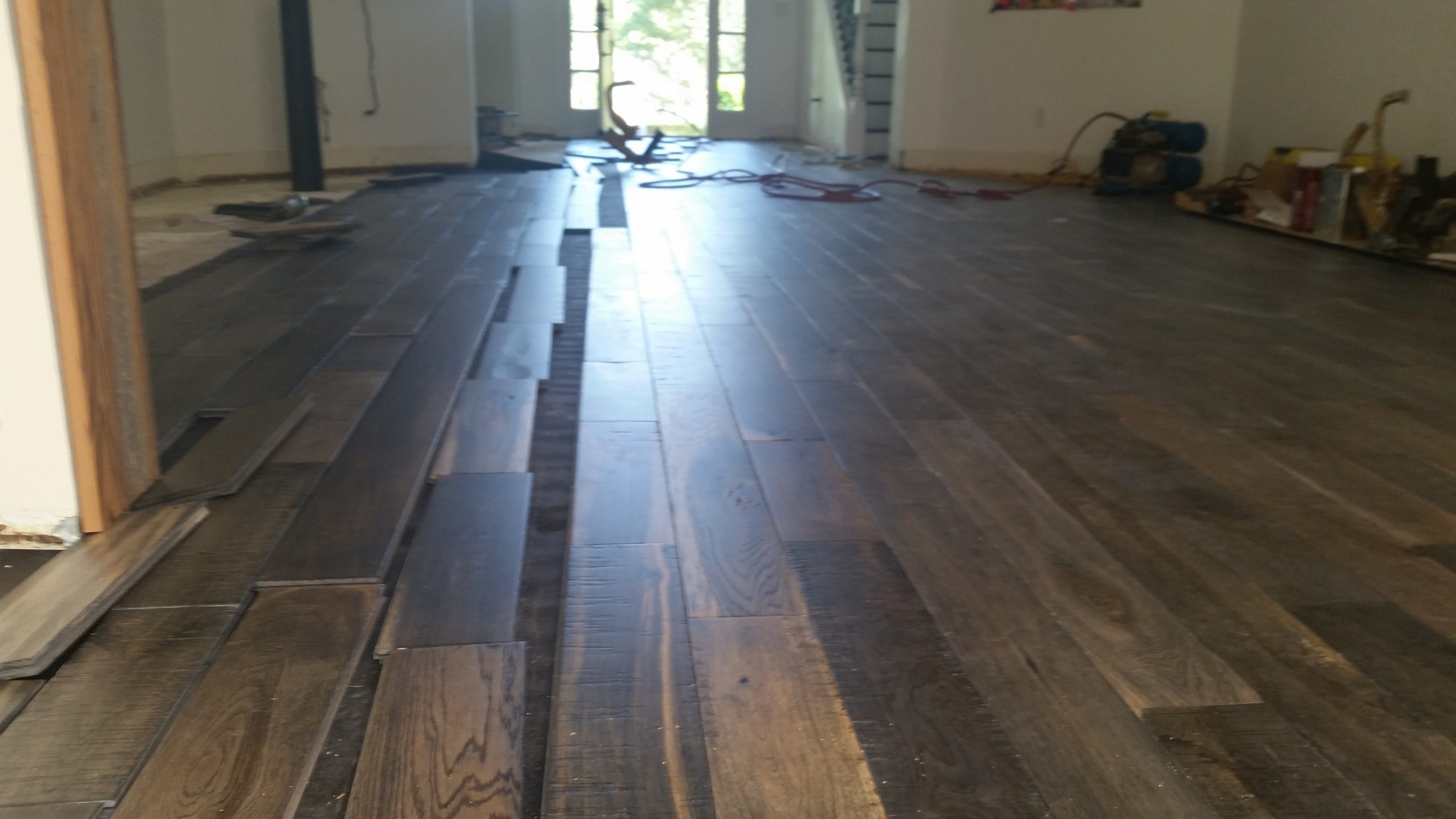 Pre-finished hardwood floor
As  you can see, the remodel affected more than just the kitchen area.  Virtually the entire main floor received pre-finished hardwood floor.
The floor is an antiqued oak 5″ wide plank with a very dark stain.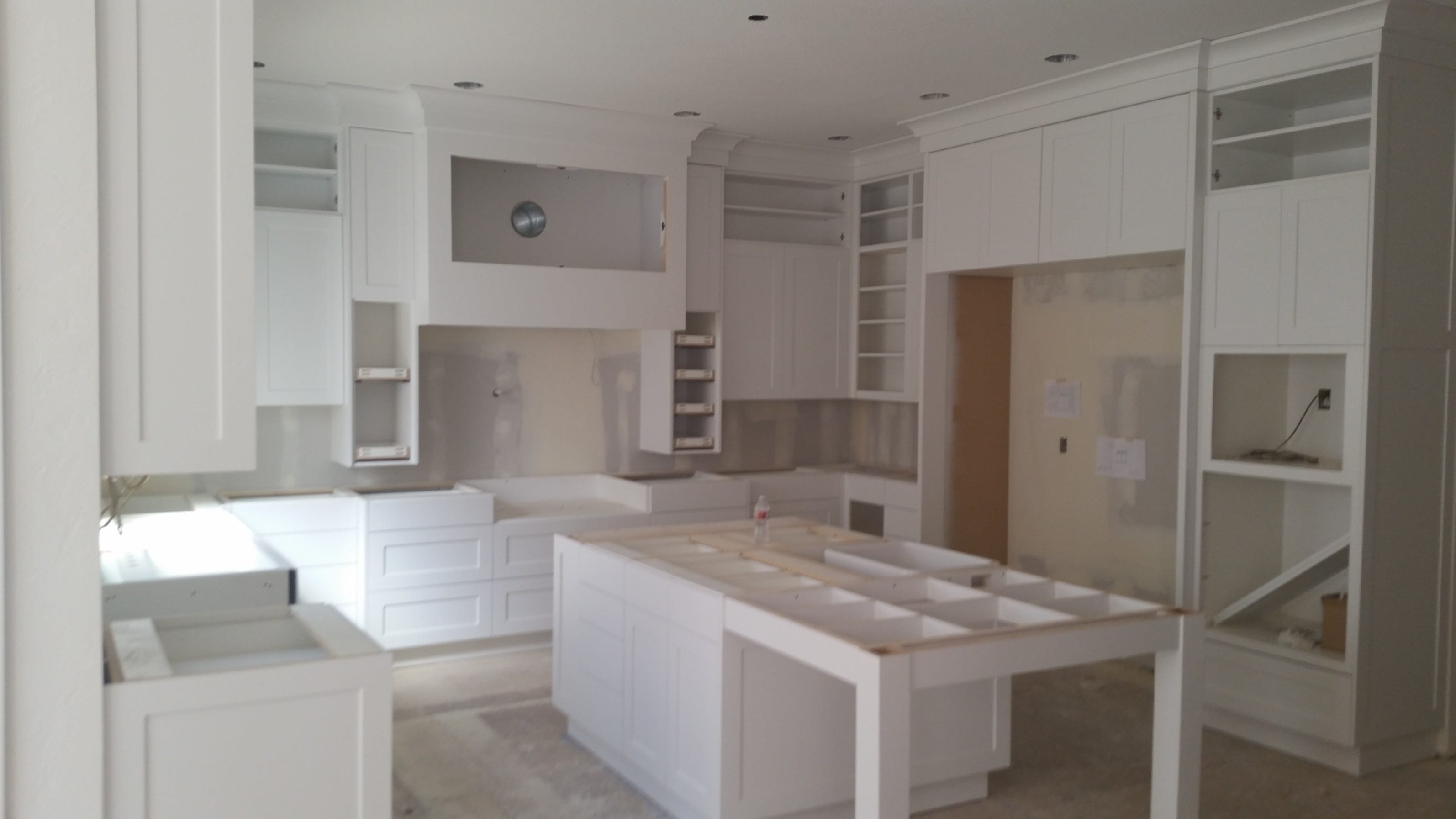 Pre-painted white cabinets
The cabinets were pre-painted by our go-to cabinet maker Cabinet Designs Unlimited in Camas, WA.  With pre-painted cabinets, installation is the key.  There's no margin for error and the guys did a great job.
With a 10′ ceiling height, these are some tall cabinets.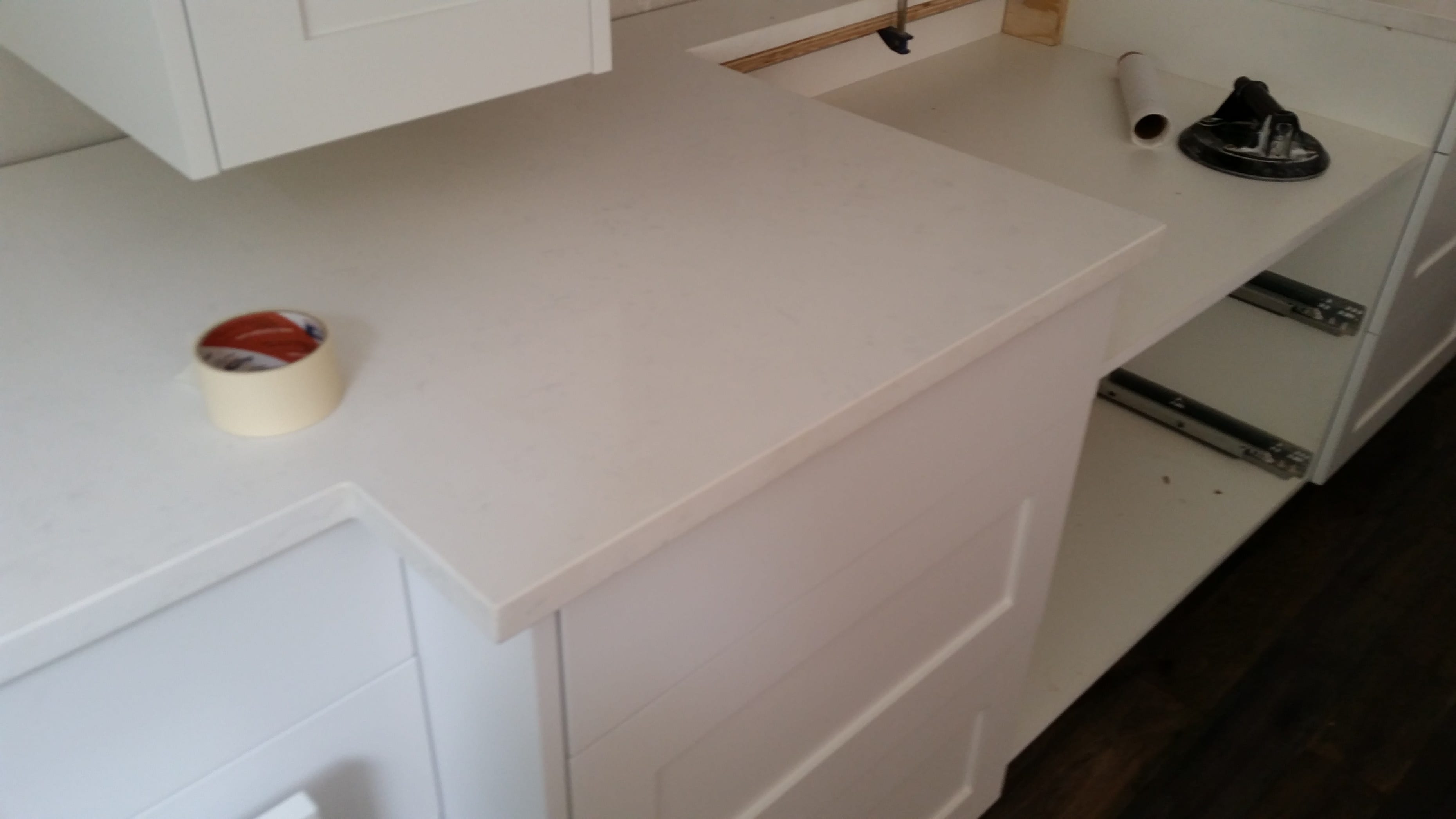 Quartz and granite counter tops
Next up, AMG installed the white quartz counters.  Here, we used Quantra Quartz 'Carrara' from Oregon Tile and Marble.  The island will get a contrasting black granite from Pental called 'Ocean Black Honed'.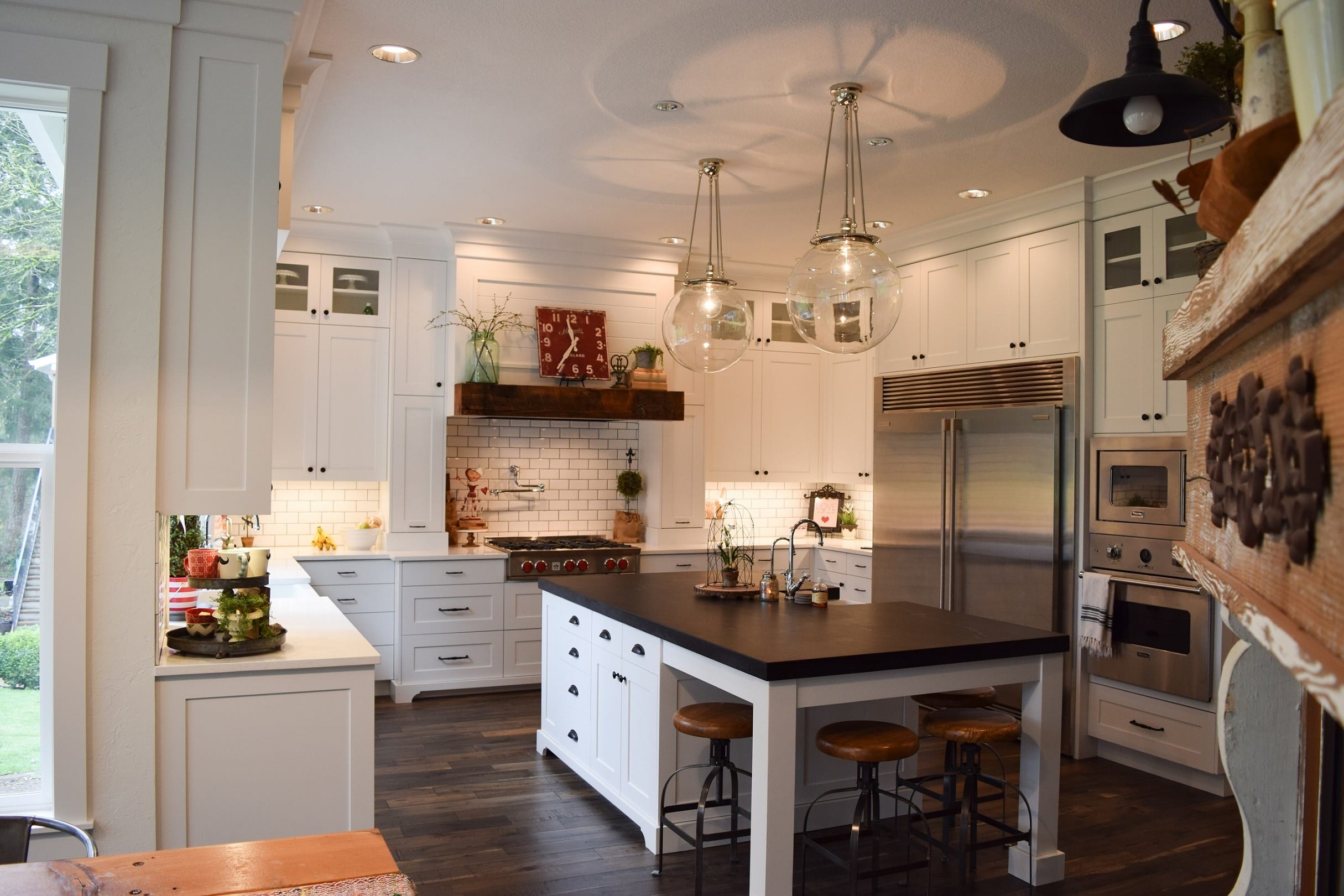 The finishing touches
The subway tile back splash, appliances, lighting and plumbing were the last steps.  As you can see, the new kitchen feels much more spacious, has tons more storage and lots of style to boot.
Krista reports that she loves her new kitchen.  It's perfect for her busy family as well as entertaining friends and extended family.