White Kitchen with Bold Blue Backsplash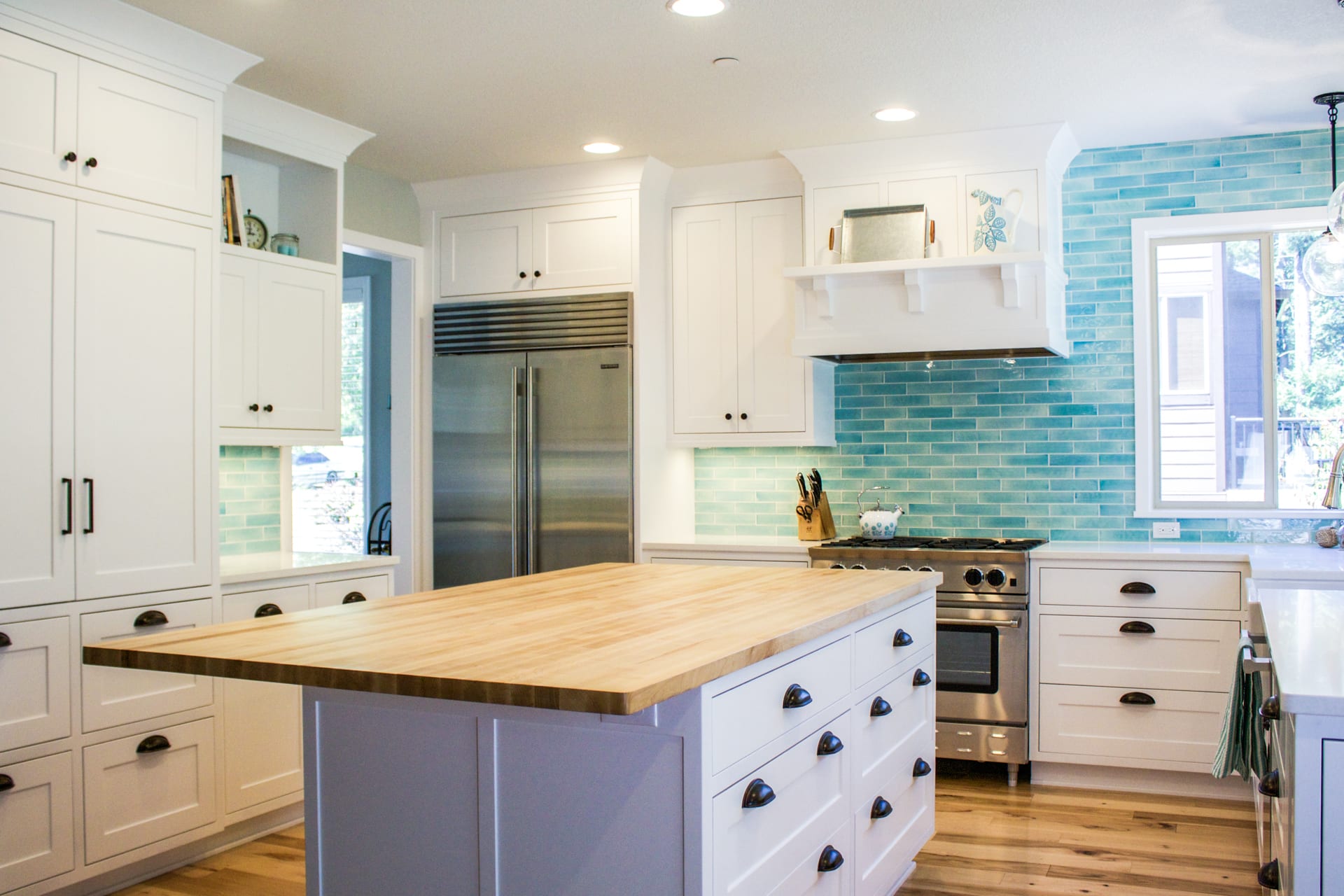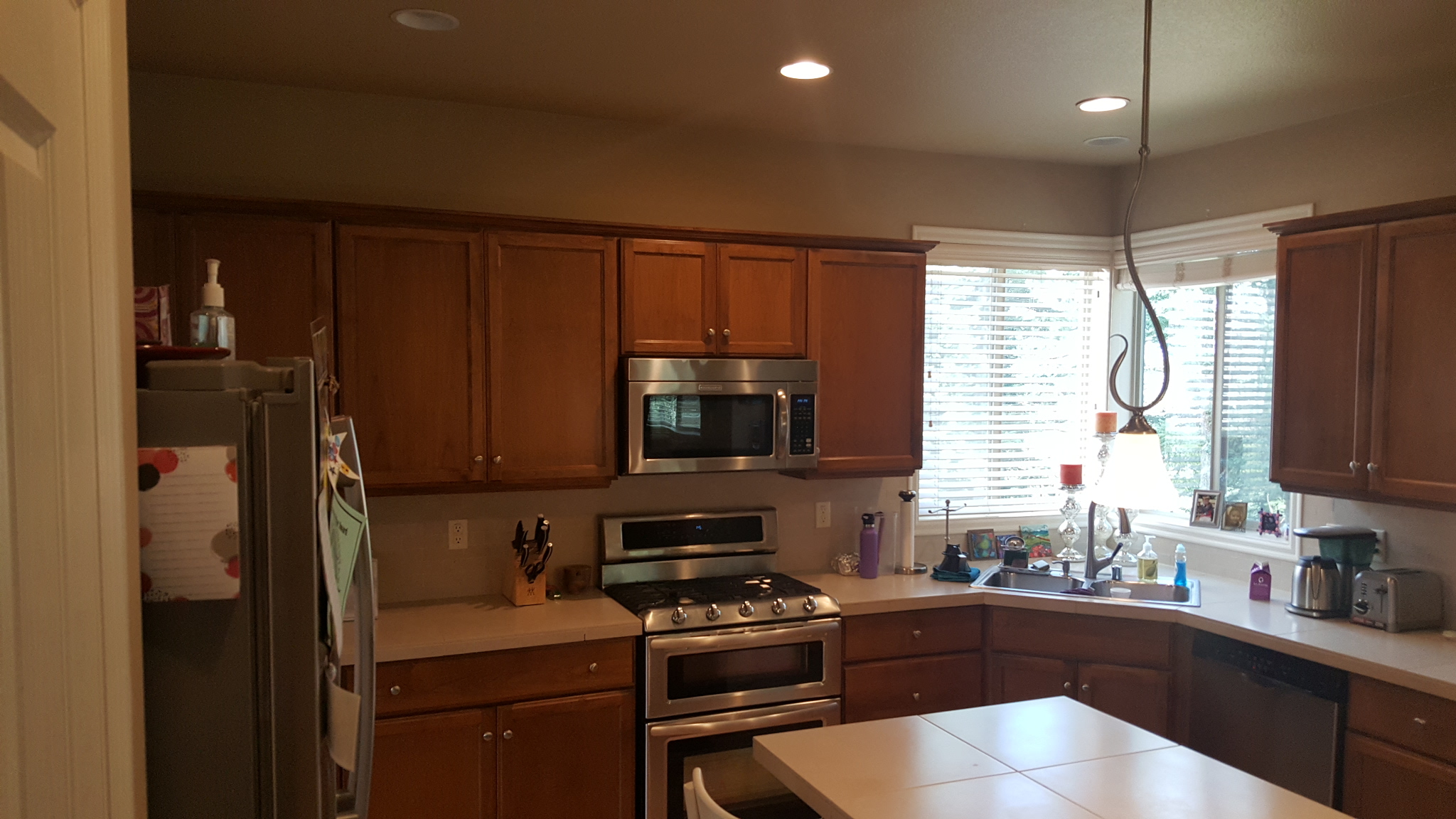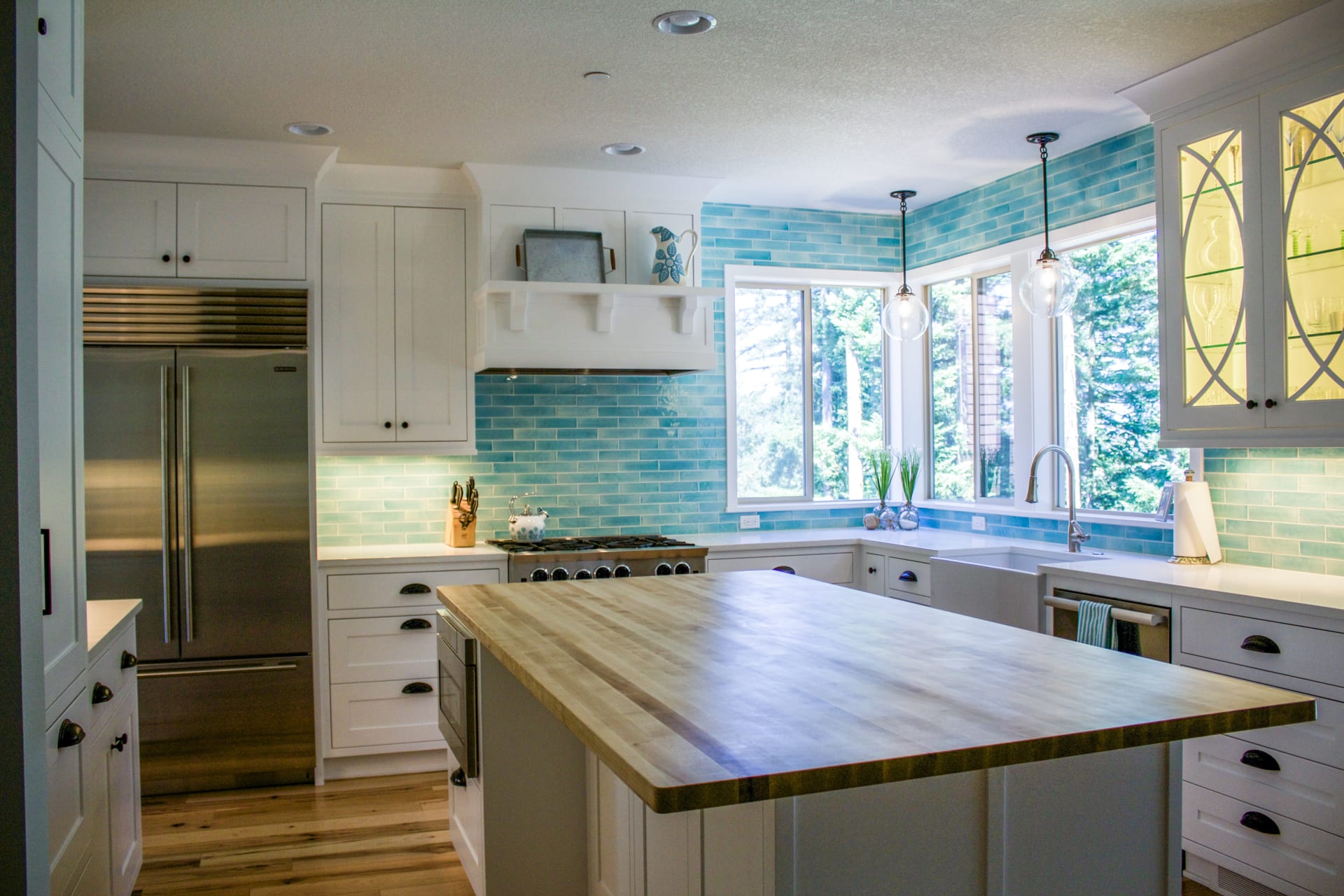 Why Remodel an 8 year old kitchen?
Our clients, Jake and Laura, bought their home 3 years ago because of the location, large yard, and daylight basement.  However, the kitchen was pretty lackluster for Laura (who loves to cook) and Jake (who loves to eat!).  Built in 2009 by a certain company that touts itself as 'America's Builder' it had the usual production home builder grade cabinets and neutral colors.  The kitchen lacked storage and was inefficiently designed for a cook with an active young family.
From Bland to Bold
Before starting the design process Laura had fallen in love with a picture on Pinterest of a kitchen with white cabinets and bold, blue tile back splash.  She knew she wanted something similar to brighten up the space and make her feel happy while doing something she loves.  Our designer, Stephanie Tottingham, encouraged Laura to visit Tempest Tile Works and she immediately knew she wanted to work with them.  Tempest is a handmade tile studio based in Portland.  They worked up several samples and came up with exactly the color and texture Laura was looking for.
Improving the Layout
There were several opportunities to improve the flow in the kitchen.  First, we moved the refrigerator to the range wall to make it easier to access and out of the way of people sitting around the island.  It also allowed for a bigger fridge- which Laura took advantage of with a 42″ SubZero.  Second, we moved the sink from the corner to the window wall (complete with a new window).  This gave us way more usable counter space around the sink, a view of the green space (rather than the neighbor's backyard) and more natural light.  Third, we tore out the pantry closet with its wire shelves and replaced it with with a full height pantry cabinet with pull outs and drawers.  Finally, we took the upper cabinets to the 9′ ceiling to capture more vertical space.  All of this was done within the existing footprint.
Kashas Custom Cabinets
This project was the first time our designer Stephanie and our cabinet maker Cliff Ham got to collaborate on a full kitchen.  Cliff hand-builds cabinets and other super custom woodworking projects in our new shop (opened January 2017).  He's a woodworking virtuoso and incredibly creative.  Stephanie loves being able to walk into the next room to see the cabinet design take shape and to make sure the client's vision gets translated to the shop.  This project features inset door construction, shaker doors with 3″ frame, maple dovetail drawer boxes, soft close hinges and drawer guides, blum movento with servo-drive trash pullout (bump it with your knee to open when your hands are dirty), custom homework storage for the kids and a hidden charging station for the electronics.   One of the things we're really proud of is the way we invite our clients to come see their cabinets mocked up in our shop before we finish them.  This way if there are any 'tweaks' needed we still have the chance to make any final adjustments.  It's not always easy to visualize what your kitchen will look like based on plans or even a 3d rendering.  We want our clients to get exactly what they want!
Materials
Counters: MSI Calico White Quartz and Maple butcher block
Tile: Custom color from Tempest Tile Works
Floor: Existing pre-finished solid Hickory
Fridge: 42″ Subzero
Range: Bluestar 36″ gas
Sink: Rohl Fireclay MS3018WH
Faucet: Rohl MB7928LMSTN-2
Results
We're really proud of our work on this kitchen and our clients couldn't be happier.  We're sure they'll make many great meals and memories in this beautiful space designed and built just for them!